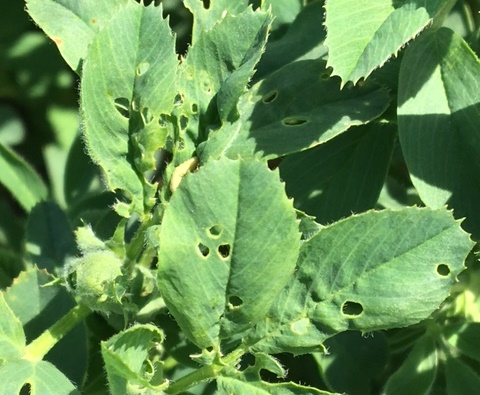 The green up of alfalfa in the spring is usually subjected to a few frost events which injures the tender leaves, causing defoliation and a reduction in tonnage of the first cutting.  Alfalfa also grows much slower in early spring, allowing insects and diseases to build up to damaging levels, further reducing tonnage.
Alfalfa weevil larvae have been found feeding in area fields the last week or so.  Most insecticide treatments will have a minimum 7 day pre-harvest interval, so treatments if necessary will need to be applied before long.  This is why checking alfalfa fields now is very important.
Alfalfa weevil are one of the most serious pests to attack fields in the spring and can be problematic to alfalfa in two ways.  First, the larvae feeds on leaves and when populations and feeding is serious enough, tonnage loss occurs.  Second, the larva will feed on plants after cutting causing slowed green up.  Cutting alfalfa will usually reduce weevil infestations, but problems occur when baling is delayed and larva feed on new growth under the protection of the windrows. Treatment before bloom should be made when there are 3 or more weevil larvae per stem.
Variegated cutworms are another pest that will damage alfalfa fields after first cutting.  Just like weevil larvae, the cutworms will feed on the new alfalfa growth under the cover of windrows.  Timely baling will help limit damage. Pyrethroid insecticides provide good control of these alfalfa pests.
Pea aphids are another very common pest.  Pea aphids along with other aphid species rarely reach economic thresholds to require treatment.  Regular cuttings in the summer and good amounts of beneficial insects often keep aphids under control.  When aphid populations are at moderate to high levels (exceeding 50 aphids per stem or 100 per sweep), plants may be stunted or yellowed and treatment should be considered. OP insecticides like Lorsban will improve control of aphids when used with a pyrethroid.
Contact your Norder Supply agronomist for more information.  They are available to scout fields and make appropriate treatment recommendations.